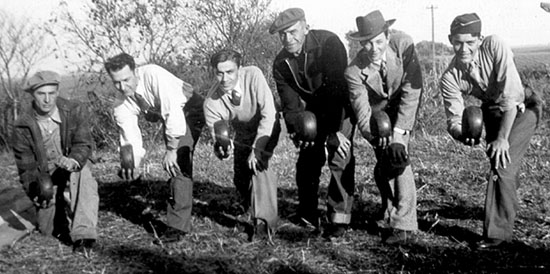 Arthur DEBROWER, John VANGAMPLEARE, Marcel HUYVAERT, Emiel BLOMME,
Gene VANGAMPLEARE, and Delbert VANGAMPLEARE are getting geared up
to play a friendly game of Rolle Bolle during the fall of 1943.

Every Sunday and on holidays, the VANGAMPLEARES would have a party at someone's farmhouse. And the men would undoubtedly play Rolle Bolle.
The game of Rolle Bolle is played on a dirt court. The bolle is made of hard wood or hard molded rubber or similar material, formed into a disc 6 to 8 inches in diameter and about 4 inches thick. It is slightly beveled to one side so that the bolle will turn towards the stake when rolled.
The game can be played with 2 to 6 players on the team, with each player having one bolle. Teams usually consist of 3 players. The object of the game is to roll your bolle as close to the stake as possible. After everyone from each team has bolled, the end is complete, so the winning team starts again by bolling to the opposite end in the same manner as before. The team scoring 8 points total wins the game.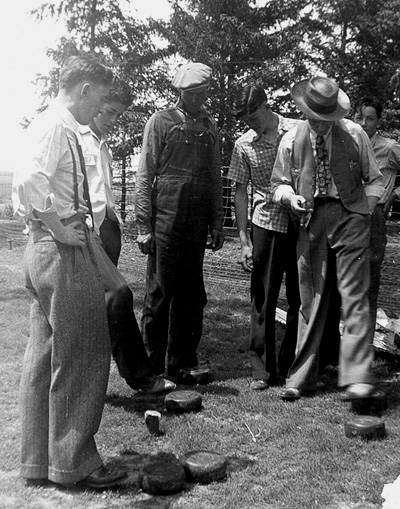 Just Who Is The Winner?
Marcel HUYVAERT, Albert VANGAMPLEARE, Emiel BLOMME, Delbert VANGAMPLEARE, John VANGAMPLEARE, and Gene VANGAMPLEARE at a 1942 Rolle Bolle Game.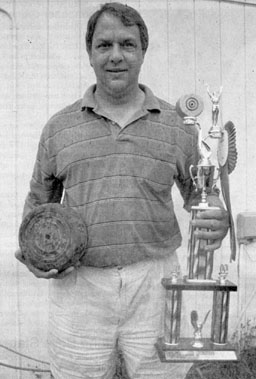 Bill DEBROWER (son of Arthur and Evelena DEBROWER) has been a Rolle Bolle player since he was a very young boy. He and his partners – Josh VAN THOURNOUT and LeRoy SUHR – finished second out of 35 teams in the World Rolle Bolle Tournament held July 16, 2000, at Annawan, IL. They also won the International Rolle Bolle tournament held August 13, 2000, at Marshall, MN, where 39 men's teams competed with players from Canada, Minnesota, Iowa, Illinois, and Belgium.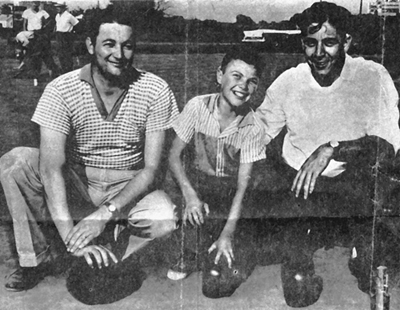 1960 — Young Jon WAGNER, flanked by his partners, Gene VANGAMPLEARE (left) and Albert VANGAMPLEARE, had a hand in rolling his team to first place money in the Rolle Bolle tournament held in Brooklyn, Iowa. More than 90 players participated.